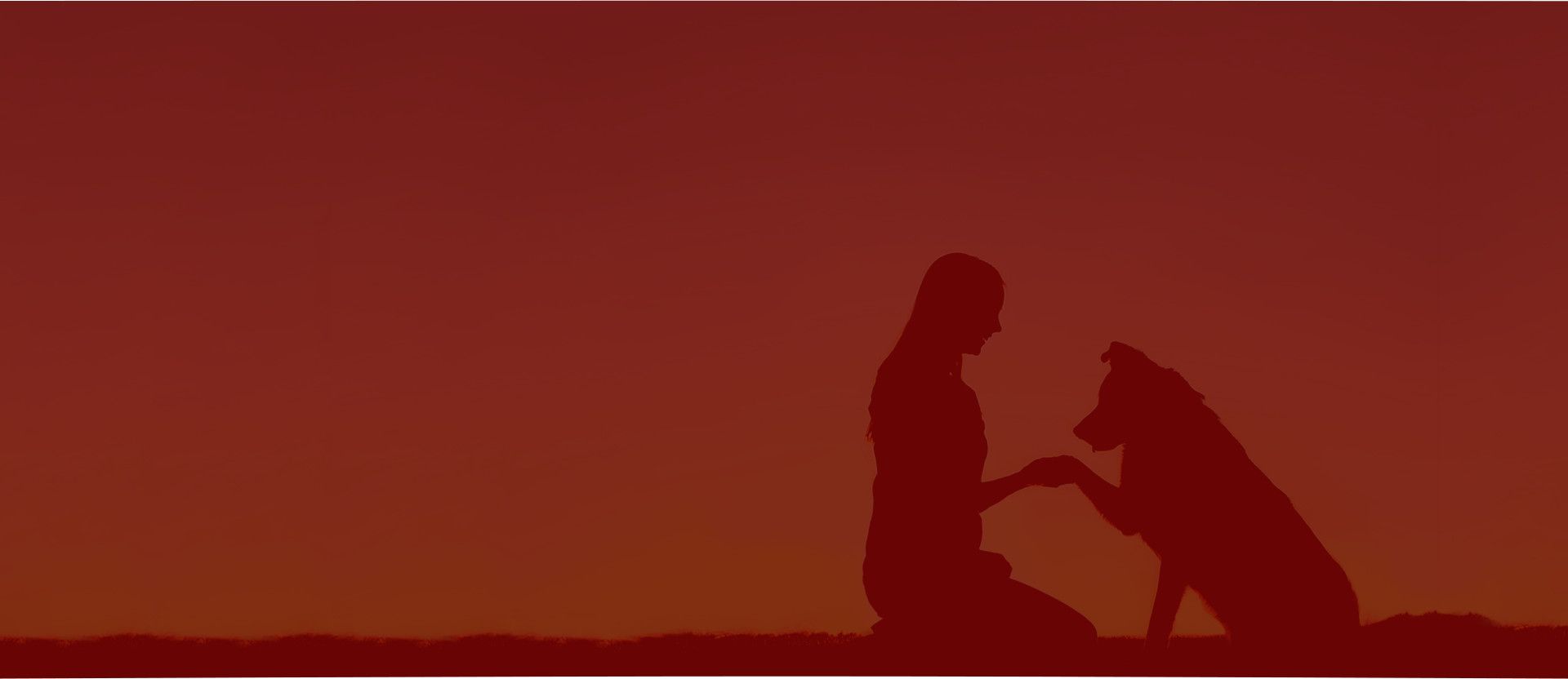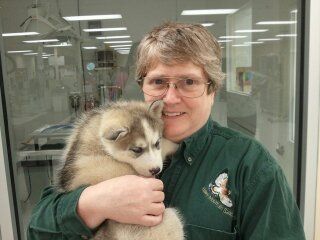 MJ Wixsom
Owner, Veterinarian

Dr. MJ Wixsom moved around frequently while growing up. The one constant was her family dog—she and Ike were practically inseparable. Her early experiences with animals made one thing quite clear: she would love to help foster the special bonds between pets and owners by becoming a veterinary professional! Dr. Wixsom is able to do just that every day as the owner and chief veterinarian here at Guardian Animal Medical Center.

Before entering the veterinary field, Dr. Wixsom spent four years as a member of the United States Coast Guard, and was even in the first female graduating class of the Coast Guard Academy. After a knee injury sidelined her career at sea, she decided to return to her childhood passion: animal care. Dr. Wixsom went back to school during her last tour of duty to receive a second Bachelor's degree in biology, and then headed off to veterinary school to earn her Doctorate.

Dr. Wixsom volunteered and then worked for a local mixed-animal practice during her veterinary studies, and also earned a Master's degree in veterinary parasitology to become the first student at her university to earn dual degrees during veterinary school. She came to eastern Kentucky for an externship during her senior year, and it wasn't long before she was determined to open her very own clinic to serve the pets and people of the Flatwoods area, and she's been here ever since.

Dr. Wixsom is a believer in state-of-the-art progressive medicine and surgery, and loves to learn about new techniques whenever possible; she makes a commitment to attend over 40 hours of continuing education courses per year. She's also passionate about client education and loves to mentor her staff members to help them grow in their own personal veterinary journeys.

Along with her husband, Matt, and their daughter, M'Kinzy, Dr. Wixsom shares her life with a menagerie of pets. They have three Labrador retrievers—Whiskey, Tango, and Ryker—as well as a Malanois named Crash and three cats who go by Jarvis, Tigre, and Parker. The animal portion of the family is rounded out by two Amazon parrots, 17-year-old water turtles, chickens, pheasants, guineas, and bees!
When she has a spare moment between family life and her duties here at the hospital, Dr. Wixsom loves to spend time outdoors and has gone rock climbing, kayaking, motorcycle riding, back-country camping, snorkeling, and scuba diving. She also likes crafting and working with her Girl Scout troop. Most of all, though, Dr. Wixsom enjoys reading and writing. She will typically read anywhere between five and 20 books a month, and she's published four books of her own.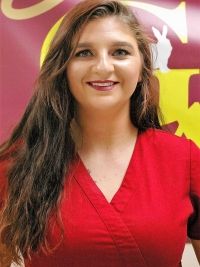 Lindsay
Receptionist

Lindsay has been a pet owner all her life—like most veterinary professionals, she adores the company of animals! Thanks to her past experience in the world of retail, Lindsay is also a people person. By working in the veterinary world, she's able to spend time around the pets she loves while getting to make a true difference in the community.

Lindsay was born in Ashland, Kentucky but grew up in Gettysburg, Pennsylvania before moving back to this area with her family during her high-school years. Lindsay's mother used to work as a receptionist right here at the clinic—when she moved out of state, Lindsay jumped at the opportunity to fill her mother's shoes and become the face of the front desk. She's been a member of the Guardian Animal Medical Center family since July of 2016, and her favorite parts of the job are interacting directly with the area's pet owners and jumping in to help out in the exam rooms whenever needed.
Outside of work, Lindsay likes spending quality time with her son—already a huge animal-lover himself—and working out at the gym. She's also an avid reader and writer, and hopes to publish her first book in the very near future!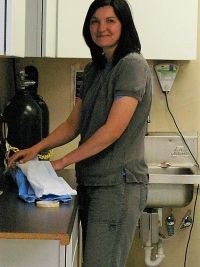 Steph
Veterinary Technician

Steph grew up on a farm in Grayson, Kentucky, where animal care was a natural part of life from day one. She's been caring for pets long before she was a veterinary professional! When the time came for her to choose a career path, Steph had a thought: why not pursue her passion in the world of animal medicine? She hasn't looked back since.

Steph has been a member of the Guardian Animal Medical Center team since 2007. In addition to her duties as a Tech, she often helps out with grooming, kennel work, and even some administrative tasks. Steph's favorite part of her job is educating the area's pet owners on how to best tend to their four-legged friends' needs, and she's also especially fond of the hospital's wildlife care program.

At home, Steph shares her life with her husband, their five wonderful children, and a menagerie of pets. The family has three Siberian Huskies—Logan, Panda (also known as the Great Escape Artist), and Mika—as well as a cat, Grey, and a turtle who goes by Squirtle.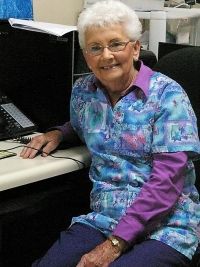 Jan
Accounts Receivable

Jan was a client of Dr. Wixsom's before she was an employee. One day in 1990, Jan brought her poodle into the clinic that Dr. Wixsom worked with at the time. By the end of the appointment, Jan had been offered a job! She's worked with Dr. Wixsom ever since—Jan serves as Guardian Animal Medical Center's in-house accountant.


Jan grew up on a farm alongside cows, horses, and the family dog. She served at her first animal hospital for 12 years before taking several years off to be there for her granddaughter as she started kindergarten. When Jan felt the itch to return to the world of veterinary medicine, she gave Dr. Wixsom a call. She's been a part of the Guardian Animal Medical Center family ever since!
In her time away from the clinic, Jan enjoys cooking, grilling, baking (her zucchini bread has even won first-place accolades in the local fair!), and gardening. She also likes to spend quality time with her husband, Bob, and her granddaughter, Kelsey.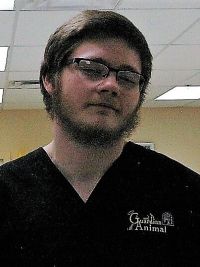 Austin
Veterinary Assistant

Austin grew up in Gettysburg, Pennsylvania and developed a passion for nature and animals early on in life. For him, working hands-on with animals is the perfect way to spend time around the pets he loves while continuing to learn something new on a daily basis!

Austin joined the Guardian Animal Medical Center family in early 2016, and assists in all areas of the clinic—on any given day he can be found helping out in the kennels, greeting clientele at the front desk, or assisting in appointment rooms. His favorite part of the work is the constant learning experience it provides, and he loves to pass along his knowledge to the area's pet owners.
In his time away from the hospital, Austin likes fishing and hiking in the great outdoors and spending quality time with family and friends.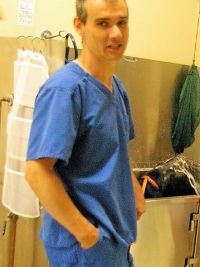 Brian
Kennel Assistant
​​​​​​​
Brian grew up with a beagle, Sam, who was his constant companion. He learned very early on in life the true value of our animal friends! Brian has always wanted to give something back, and he's able to do just that as a member of the Guardian Animal Medical Center family.

Brian is originally from Russell, Kentucky and began here at the hospital in 2008. He serves as a Kennel Assistant, and his favorite part of the job is the variety of animals that he gets to interact with on a daily basis. Every shift is full of surprises!
Outside of work, Brian is a car enthusiast and enjoys working on his vehicles whenever he gets the chance. He also likes playing video games and spending time at home with his family and his dog, Max, a rescue that Brian brought home after he received treatment here at the hospital.